Posted by Tracy in : Healing retreats , 2comments
BARRA DE NAVIDAD, Jalisco, Mexico – A pair of roosters herald the dawn as I curl among the blankets in the Universe Room of the Casa Holistica Sol. The vibrant magenta beginning to streak the sky outside my arched window and the faraway rhythm of waves on the sand is call to me, and I quickly grab my camera and binoculars and head out to explore this little Pacific paradise.
It was not my intention to be here now but I had recently befriended the proprietor of this place, a warm and winsome wise-woman and healer by the name of Lucero, and she had whisked me away from my home in the highlands. It would be an all-too-brief stay – I had to be home in less than 48 hours, and 10 of that would be the journey to Barra and back again – but it was worth it.
Lucero, whose name means star, is a modern-day shaman who invokes the ancestors from the depths of the adobe temazcal in her courtyard. Brilliant hibiscus are in full bloom, and the soothing sounds of Deva Primal blend with the trickle of the waterfall. In the background, an indigenous woman with an uncanny resemblance to Lucero looks down from a mural, lifting her smoking, copal-filled censer to the heavens.
(more…)
Posted by Tracy in : Adventure , add a comment
For those who rely on a wheelchair, traversing the Great Wall of China or zip lining in Costa Rica might seem impossible. But at least two Houstonians, Lex Frieden and John Sage, are living proof that it's not. Both decided long ago that their limited mobility would not be a barrier to their dreams of world travel, and both of them can boast itineraries that most people would envy.
"If I can get there, I can pretty much figure out how to get around," said Frieden, a disabilities advocate who's been called a chief architect of the Americans with Disabilities Act. Frieden, a quadriplegic who lost most of his mobility in a car crash in 1967, has received a tribal greeting from Maoris in the jungles of New Zealand, visited Kuwait right after the Iraq War, and explored the Great Wall 20 years ago, before a wheelchair lift was installed.
Read the rest of the story here
Posted by Tracy in : Adventure, Uncategorized , add a comment
Alfred and Joyce Goodman don't consider themselves adventure travelers; you're more likely to find them aboard a luxury cruise than a wilderness safari. Nevertheless, they came away from a recent cruise through the Middle East with stories that hearkened more from the pages of Sinbad's fabled voyages than Travel and Leisure.
Israeli security guards kept a watchful eye as they passed along the shores of Sudan, and a fellow passenger regaled them with stories from a cruise in which her ship had been attacked by Somali pirates. Among the images etched in the Goodmans' memories: a Bedouin guide raised with his nomadic family in the desert, a lost city carved in stone, and gold-trimmed minarets on a snow-white mosque.
For the Western traveler, the Middle East has always been a destination that thrills with the mystery of the unknown. On the positive side, it's an eye-opening journey into another reality, one that is ancient and yet very modern. On the down side is the instability that has plagued the region, and never more so than now, in the years following the Arab Spring, as citizens struggle to take control from repressive governments.
Plenty of travelers, like the Goodmans, are taking the risks in stride and heading for the Middle East for the journey of a lifetime.
(more…)
Posted by Tracy in : Adventure , add a comment
For two decades, Deborah Luik flirted with disaster all over the world. This mercurial traveler, software architect and dog trainer was kidnapped in Cyprus, scammed in Portugal and harassed by drunks while pregnant in Japan. To Deborah, it was all part of the adventure.
Before she knew better, she rode an elephant in the traffic of Jaipur and hitched rides with a British officer through Wales and a Muslim porn smuggler on a camel through India. Naturally, when she got married, it would be with a fellow adventurer.
She and Paul, a mechanical engineer, fell in love during road trips through northern Mexico and were married in Houston in September 1992. For their honeymoon, they headed for Costa Rica to go rafting. Naturally, it was rainy season, and they nearly perished in the floodwaters.
Posted by Tracy in : Uncategorized , add a comment
As they planned their trip to Italy, Joel and Meredith Vela kept hearing from friends who'd been there: "Don't worry about learning Italian – everyone there speaks English!"
Nevertheless, Joel got an audio course to learn the basics. The best parts of the trip were off the beaten track, in little villages where almost nobody spoke any English.
The misconception that everyone everywhere speaks English is one of many that can get in the way of the perfect trip. Personal-injury attorney Stephen Boutros recently discovered another one: A hotel's "lowest available room rate" isn't necessarily so. He discovered that by entering "hotel promo code" in Google you can find codes that will reduce your rate by as much as 30 percent.
Posted by Tracy in : Uncategorized , add a comment
Now that we've all survived the end of the world, it's time to celebrate – and what better way than with a fantastic journey into the unknown? Here are 13 destinations to consider.
1. Riviera Maya – It's not too late to celebrate the end of the Mayan calendar at the AAA Five Diamond Grand Velas Riviera Maya. It's Virtuoso's pick for World's Best Spa, inspired by ancient cultures. That, with its Caribbean vistas, would be enough. But Grand Velas also embraces an authentically eco-friendly philosophy. rivieramaya.grandvelas.com/
2. Upstate New York – What could be a better escape from the brutal Houston summer than a seven-story Victorian castle on a cliff overlooking the Hudson Valley? Idle away the hours in the spa or roam the 5,300-acre Mohonk Preserve; enjoy horseback riding, golfing, biking, carriage rides and old-fashioned lawn games. mohonk.com
3. Park City – In the winter, it's the matchless powder; try the five-star, five-diamond Stein Eriksen Lodge, with ski access to Deer Valley Resort. In the summer, it's a blessed escape for sweltering Houstonians. Hike, bike and check out the area's gastro-distilleries, then take in an outdoor symphony. steinlodge.com, deervalley.com
Posted by Tracy in : Uncategorized , 2comments

Joseph "Gary" Brunk, March 6, 1939-Dec. 23, 2012. (Tasha Brunk Huesca hand & photo)
My father was a man who held a family together with strong yet gentle hands. I held one of those hands as I said goodbye and reflected on all it had done for us – the same huge hand that had held mine as I took my first steps, that had cradled countless babies' heads as he welcomed them into the world with delight. Powerful hands that had built the two houses where we had lived, cracked the riddle of many a frozen engine block, twisted many a bolt, lifted a wireless internet tower to triumphant verticality.
The hands that scraped the ice from many a windshield on a day like today, so that we wouldn't have to. The hands that drove an hour early each morning into the city, to work in a factory, so that we could grow up in the country. The hands that took on odd jobs in the evenings, like the one that eventually would cost him his life, so that we could live in comfort.
These were the proud, capable hands of a man's man, one who knew how to get things done and didn't hesitate in doing them. Hands callused to the elements, to the rough tug of the pull cord that yanked to life a mower or a chain saw, or if it hesitated, to plumb its oily depths for the answer to the mechanical mysteries of its malfunction. Teaching a grandchild to thread a fishhook, cast a line, and celebrate the resulting catch; and always being the one to clean the fish at the end.
These hands, the knuckles gnarled with calcification, strumming the strings of his autoharp. Learning to play guitar at 73. Prying open the delicate links of a silver chain to reassemble a favorite necklace of a daughter or a wife. Beaming as yet another baby curled a tiny tentative hand around his big finger. Turning the fragile pages of his timeworn Bible or clasped in prayer, searching for the wisdom that would guide his day.

I let go the beloved hand with a final prayer. That the hands that created him now would cradle him with a greater love than our own. And that those same hands will one day reunite us all.
We love you, Papa. And we will never let you go.
Posted by Tracy in : Uncategorized , add a comment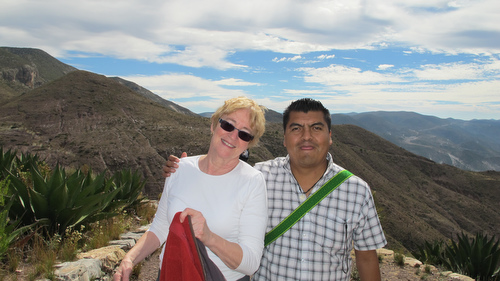 Canadian author and activist Maude Barlow atop the Cerro Quemado with Wixarika leader Santos de la Cruz. (Tracy L. Barnett photos)
REAL DE CATORCE, Mexico – From the moment Maude Barlow passed under the crumbling stone arch and saw the first nopalera laden with red cactus fruits, she knew she was entering another dimension.
Accompanied by a retinue of Huichol leaders, activists and a wandering journalist, the Canadian author, public speaker and social leader was making her own pilgrimage to the Birthplace of the Sun. It's a journey the Huichols or Wixarika people have made for over a thousand years, coming to reconnect with the ancestors, light the candles of life and pray for the balance of all life on Earth.
Maude's mission was a different one. She had come to see for herself what was at stake in Wirikuta, this most sacred of Huichol holy sites, currently slated for exploitation by Canadian mining companies.
(more…)
Posted by Tracy in : Uncategorized , 2comments
Lino Stancich instructs passengers on the art of self-massage for healing on the top deck of the MSC Poesia.
THIRTY THOUSAND FEET OVER THE GULF OF MEXICO – It's hard to believe it was just a week ago that I made this journey in reverse, catching my pre-dawn flight in Guadalajara, deplaning in Miami to find my Dad relaxed and rosy from the sun at the wheel of a rental car. A week since we found our way to Cruise Terminal 4 in Fort Lauderdale, to the 16-story MSC Poesia, to the Holistic Holiday at Sea, a colorful new community of people joyfully embracing a lifestyle that until now, I'd never contemplated adopting for myself.
I'd given up meat for my Dad, and even dairy for a few weeks – and giving up all animal products on a long-term basis seemed right and proper for my father, who is fighting a grim mesothelioma diagnosis with a self-healing approach. For me, however, it seemed unnecessary and extreme.
But that was before – and this is after.
(more…)
Posted by Tracy in : Uncategorized , 1 comment so far
When Dr. Martha Cottrell turned 50, she was a mess. She suffered from rheumatoid arthritis, psoriasis and severe allergies. She didn't think it could get much worse – but one day, it did. She was diagnosed with a pre-cancerous lesion of the cervix.
"I was doing everything I had been taught," she told the audience, an attentive theater full of more than 1,200 vegans and macrobiotics. She had healed thousands in her career as a family practice physician, but she didn't have a clue what she was doing wrong in terms of her own health.