Posted by Tracy in : Adventure, Mexico, Nature tourism, Uncategorized , 1 comment so far
BARRA DE NAVIDAD, Jalisco, Mexico – The crashing waves and a gentle breeze serve as the backdrop for an Italian opera here at the expansive Bar de los Chicanos, atop the elegant Hotel Alondra. When we first arrived, it was a rousing salsa set, a hopeful bid to fill the ample dance floor overlooking the sea; but seeing that today's Hora Feliz (Happy Hour) clients were writers and conversationalists and loungers rather than dancers, the accommodating bartender changed the tune.
It's like that, here on the Costalegre, Mexico's "Happy Coast." Whatever your mood, you can find the circumstance, but more likely than not, it will be laid back – particularly at this time of year, when the heat obliges one to take a more contemplative pace.
I came here with my sister Toni in October, before the beginning of high season and just at the end of hurricane season. News of the Category 3 Hurricane Raymond closing in on the coast of poor sodden Acapulco, struggling to recover from last month's Hurricane Manuel, definitely puts a damper on our plans to mosey up the stretch of coast from Barra on up to Puerto Vallarta, exploring the villages and beaches that make up the Costalegre.
(more…)
Posted by Tracy in : Uncategorized , 3comments
PARIS, France – We arrived at Charles de Gaulle International Airport at 8:40 a.m., but between looking in vain for our lost luggage, filing a claim, learning to negotiate the metro system and buying a local SIM card for the phone, it was nearly 11 by the time that we emerged from the subterranean maze for my first view of the City of Light.
Unfortunately, as we approached the stairway leading to the outer world, we saw it being pelted from above by fat raindrops. We had arrived during the latest, wettest spring any Parisian could remember.
I'm traveling with my 17-year-old niece, Aniqa Rahman, who just finished four years of high school French studies, which is already proving enormously helpful. We had hit on the idea because of her studies, and because I had discovered family roots in Normandy, where a friend from San Antonio had invited me to come for a visit. Put all together, it seemed that France was calling to us.
(more…)
Posted by Tracy in : Adventure, Uncategorized , 1 comment so far
Alfred and Joyce Goodman don't consider themselves adventure travelers; you're more likely to find them aboard a luxury cruise than a wilderness safari. Nevertheless, they came away from a recent cruise through the Middle East with stories that hearkened more from the pages of Sinbad's fabled voyages than Travel and Leisure.
Israeli security guards kept a watchful eye as they passed along the shores of Sudan, and a fellow passenger regaled them with stories from a cruise in which her ship had been attacked by Somali pirates. Among the images etched in the Goodmans' memories: a Bedouin guide raised with his nomadic family in the desert, a lost city carved in stone, and gold-trimmed minarets on a snow-white mosque.
For the Western traveler, the Middle East has always been a destination that thrills with the mystery of the unknown. On the positive side, it's an eye-opening journey into another reality, one that is ancient and yet very modern. On the down side is the instability that has plagued the region, and never more so than now, in the years following the Arab Spring, as citizens struggle to take control from repressive governments.
Plenty of travelers, like the Goodmans, are taking the risks in stride and heading for the Middle East for the journey of a lifetime.
(more…)
Posted by Tracy in : Uncategorized , 1 comment so far
As they planned their trip to Italy, Joel and Meredith Vela kept hearing from friends who'd been there: "Don't worry about learning Italian – everyone there speaks English!"
Nevertheless, Joel got an audio course to learn the basics. The best parts of the trip were off the beaten track, in little villages where almost nobody spoke any English.
The misconception that everyone everywhere speaks English is one of many that can get in the way of the perfect trip. Personal-injury attorney Stephen Boutros recently discovered another one: A hotel's "lowest available room rate" isn't necessarily so. He discovered that by entering "hotel promo code" in Google you can find codes that will reduce your rate by as much as 30 percent.
Posted by Tracy in : Uncategorized , 1 comment so far
Now that we've all survived the end of the world, it's time to celebrate – and what better way than with a fantastic journey into the unknown? Here are 13 destinations to consider.
1. Riviera Maya – It's not too late to celebrate the end of the Mayan calendar at the AAA Five Diamond Grand Velas Riviera Maya. It's Virtuoso's pick for World's Best Spa, inspired by ancient cultures. That, with its Caribbean vistas, would be enough. But Grand Velas also embraces an authentically eco-friendly philosophy. rivieramaya.grandvelas.com/
2. Upstate New York – What could be a better escape from the brutal Houston summer than a seven-story Victorian castle on a cliff overlooking the Hudson Valley? Idle away the hours in the spa or roam the 5,300-acre Mohonk Preserve; enjoy horseback riding, golfing, biking, carriage rides and old-fashioned lawn games. mohonk.com
3. Park City – In the winter, it's the matchless powder; try the five-star, five-diamond Stein Eriksen Lodge, with ski access to Deer Valley Resort. In the summer, it's a blessed escape for sweltering Houstonians. Hike, bike and check out the area's gastro-distilleries, then take in an outdoor symphony. steinlodge.com, deervalley.com
Posted by Tracy in : Uncategorized , 2comments

Joseph "Gary" Brunk, March 6, 1939-Dec. 23, 2012. (Tasha Brunk Huesca hand & photo)
My father was a man who held a family together with strong yet gentle hands. I held one of those hands as I said goodbye and reflected on all it had done for us – the same huge hand that had held mine as I took my first steps, that had cradled countless babies' heads as he welcomed them into the world with delight. Powerful hands that had built the two houses where we had lived, cracked the riddle of many a frozen engine block, twisted many a bolt, lifted a wireless internet tower to triumphant verticality.
The hands that scraped the ice from many a windshield on a day like today, so that we wouldn't have to. The hands that drove an hour early each morning into the city, to work in a factory, so that we could grow up in the country. The hands that took on odd jobs in the evenings, like the one that eventually would cost him his life, so that we could live in comfort.
These were the proud, capable hands of a man's man, one who knew how to get things done and didn't hesitate in doing them. Hands callused to the elements, to the rough tug of the pull cord that yanked to life a mower or a chain saw, or if it hesitated, to plumb its oily depths for the answer to the mechanical mysteries of its malfunction. Teaching a grandchild to thread a fishhook, cast a line, and celebrate the resulting catch; and always being the one to clean the fish at the end.
These hands, the knuckles gnarled with calcification, strumming the strings of his autoharp. Learning to play guitar at 73. Prying open the delicate links of a silver chain to reassemble a favorite necklace of a daughter or a wife. Beaming as yet another baby curled a tiny tentative hand around his big finger. Turning the fragile pages of his timeworn Bible or clasped in prayer, searching for the wisdom that would guide his day.

I let go the beloved hand with a final prayer. That the hands that created him now would cradle him with a greater love than our own. And that those same hands will one day reunite us all.
We love you, Papa. And we will never let you go.
Posted by Tracy in : Uncategorized , add a comment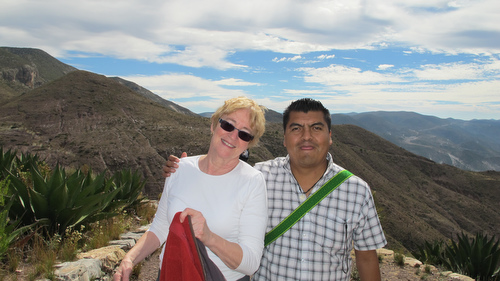 Canadian author and activist Maude Barlow atop the Cerro Quemado with Wixarika leader Santos de la Cruz. (Tracy L. Barnett photos)
REAL DE CATORCE, Mexico – From the moment Maude Barlow passed under the crumbling stone arch and saw the first nopalera laden with red cactus fruits, she knew she was entering another dimension.
Accompanied by a retinue of Huichol leaders, activists and a wandering journalist, the Canadian author, public speaker and social leader was making her own pilgrimage to the Birthplace of the Sun. It's a journey the Huichols or Wixarika people have made for over a thousand years, coming to reconnect with the ancestors, light the candles of life and pray for the balance of all life on Earth.
Maude's mission was a different one. She had come to see for herself what was at stake in Wirikuta, this most sacred of Huichol holy sites, currently slated for exploitation by Canadian mining companies.
(more…)
Posted by Tracy in : Uncategorized , add a comment
By Nikolai Rudenko
Editor's note: This post is provided by our sponsors.
If there's one reason why a trip to Turkey should be embarked upon at some point in your life, ignoring the obvious sun, sea and sand, it's the cuisine. Turkish food provides some of the tastiest morsels you'll ever devour and the only way to really sample it is by visiting the country itself. Luckily, there are plenty of fantastic reasons why a holiday in Turkey should be at the top of your destination list for a summer holiday, with Antalya breaks from Direct Holidays providing everything you could possibly wish for, including plenty of cultural and historical treats to broaden your mind, too.
If you need one reason to avoid an all-inclusive break in Antalya and opt for another board basis, such as self-catering or bed and breakfast, it's the cuisine that you'd be missing out on by staying within your resort. The food is as mouth-watering as it is tempting and certainly doesn't stop at the popular souvenir box of Turkish Delight.
During your visit, be sure to sample the traditional meze, whose counterparts can range from kalamar to kofte meatballs and aubergine salad.
Of course, the humble Iskender kebab (or, in fact, any of the authentic local kebabs) are an absolute must-try. A stay in Antalya will introduce you to a variety of regional and national kebab offerings – take a look at the options and order one that your tastebuds will love.
Turkish desserts are unlike anything you may have tried before – they love the sweet puddings and there's an array of pastries available, including the famous baklava made of flaky pastry and nuts, covered with a deliciously sweet syrup – totally scrumptious, but too much of it may require a visit to the dentist.
While there's an abundance of English-style restaurants in and around Antalya, what's the point in travelling all that way to eat something you'd have at home? Try something new on your upcoming Turkey holiday for an exciting foodie experience on holiday.
Posted by Tracy in : Uncategorized , add a comment
By Nikolai Rudenko
Editor's note: This post is provided by our sponsors.
Fancy a cruise holiday this year? You needn't worry about time running out, because there are plenty of fantastic cruises on offer, and a number of tempting deals too.
For instance, take a look at Thomas Cook 2013 Cruises. As you'll see, there is a superb range of cruise experiences to choose from and plenty of wonderful ships to take you there. Some of them easily fall under the banner of a 'superliner' – which go well beyond the expected norms of facilities and service. With Royal Caribbean, for instance, you can expect innovative cruise facilities like surf simulators and rock-climbing walls, ice skating and extreme acrobatic shows. With P&O Cruises, you can choose a superb family-friendly cruise, while on a holiday with Celebrity Cruises it's all about A-list surroundings and VIP-style destinations.
This year, you could sail away on a Caribbean discovery tour, taking in such sumptuous destinations as Florida, the Bahamas, the U.S. Virgin Islands and St Maarten. Or, head off to explore such European gems as Venice, the city of Split in Croatia, rugby-mad Toulon in France, the chic city of Barcelona and Italy's historic hotspots of Rome and Florence. How about a trip to the frozen wonderland of Alaska, a chance to see the Northern Lights, or a discovery cruise along some of Europe's most famous rivers? River cruise operators have smaller vessels that can access areas that are usually off-limits to larger cruise ships and superliners, taking you to some of Europe's most beautiful hidden gems.
Cruise holidays are all about enjoying a little bit of what you fancy, and if you've got a cruise holiday on the cards in 2013, you'll find a fantastic range of cruise operators and holidays to take you there. From sunbaked shores to ancient cities, which 2013 cruise gets your vote?
Posted by Tracy in : Uncategorized , add a comment
By Nikolai Rudenko
Editor's note: This post is provided by our sponsors.
If you're a fan of sizzling fajitas and fiery fiestas, don't miss your chance to visit Mexico. This captivating corner of the world is alive with Spanish flair and a culture rich in indigenous traditions, not to mention some of the most beautiful natural landscapes in the world. (more…)