Posted by Tracy in : Uncategorized , 1 comment so far
Now that we've all survived the end of the world, it's time to celebrate – and what better way than with a fantastic journey into the unknown? Here are 13 destinations to consider.
1. Riviera Maya – It's not too late to celebrate the end of the Mayan calendar at the AAA Five Diamond Grand Velas Riviera Maya. It's Virtuoso's pick for World's Best Spa, inspired by ancient cultures. That, with its Caribbean vistas, would be enough. But Grand Velas also embraces an authentically eco-friendly philosophy. rivieramaya.grandvelas.com/
2. Upstate New York – What could be a better escape from the brutal Houston summer than a seven-story Victorian castle on a cliff overlooking the Hudson Valley? Idle away the hours in the spa or roam the 5,300-acre Mohonk Preserve; enjoy horseback riding, golfing, biking, carriage rides and old-fashioned lawn games. mohonk.com
3. Park City – In the winter, it's the matchless powder; try the five-star, five-diamond Stein Eriksen Lodge, with ski access to Deer Valley Resort. In the summer, it's a blessed escape for sweltering Houstonians. Hike, bike and check out the area's gastro-distilleries, then take in an outdoor symphony. steinlodge.com, deervalley.com
Posted by Tracy in : Uncategorized , 2comments

Joseph "Gary" Brunk, March 6, 1939-Dec. 23, 2012. (Tasha Brunk Huesca hand & photo)
My father was a man who held a family together with strong yet gentle hands. I held one of those hands as I said goodbye and reflected on all it had done for us – the same huge hand that had held mine as I took my first steps, that had cradled countless babies' heads as he welcomed them into the world with delight. Powerful hands that had built the two houses where we had lived, cracked the riddle of many a frozen engine block, twisted many a bolt, lifted a wireless internet tower to triumphant verticality.
The hands that scraped the ice from many a windshield on a day like today, so that we wouldn't have to. The hands that drove an hour early each morning into the city, to work in a factory, so that we could grow up in the country. The hands that took on odd jobs in the evenings, like the one that eventually would cost him his life, so that we could live in comfort.
These were the proud, capable hands of a man's man, one who knew how to get things done and didn't hesitate in doing them. Hands callused to the elements, to the rough tug of the pull cord that yanked to life a mower or a chain saw, or if it hesitated, to plumb its oily depths for the answer to the mechanical mysteries of its malfunction. Teaching a grandchild to thread a fishhook, cast a line, and celebrate the resulting catch; and always being the one to clean the fish at the end.
These hands, the knuckles gnarled with calcification, strumming the strings of his autoharp. Learning to play guitar at 73. Prying open the delicate links of a silver chain to reassemble a favorite necklace of a daughter or a wife. Beaming as yet another baby curled a tiny tentative hand around his big finger. Turning the fragile pages of his timeworn Bible or clasped in prayer, searching for the wisdom that would guide his day.

I let go the beloved hand with a final prayer. That the hands that created him now would cradle him with a greater love than our own. And that those same hands will one day reunite us all.
We love you, Papa. And we will never let you go.
Posted by Tracy in : Uncategorized , add a comment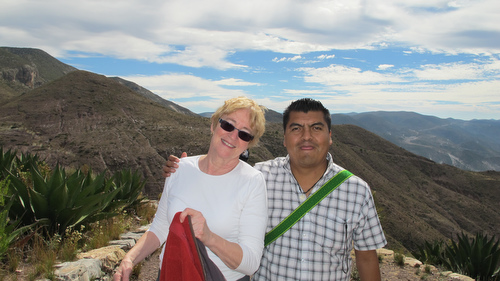 Canadian author and activist Maude Barlow atop the Cerro Quemado with Wixarika leader Santos de la Cruz. (Tracy L. Barnett photos)
REAL DE CATORCE, Mexico – From the moment Maude Barlow passed under the crumbling stone arch and saw the first nopalera laden with red cactus fruits, she knew she was entering another dimension.
Accompanied by a retinue of Huichol leaders, activists and a wandering journalist, the Canadian author, public speaker and social leader was making her own pilgrimage to the Birthplace of the Sun. It's a journey the Huichols or Wixarika people have made for over a thousand years, coming to reconnect with the ancestors, light the candles of life and pray for the balance of all life on Earth.
Maude's mission was a different one. She had come to see for herself what was at stake in Wirikuta, this most sacred of Huichol holy sites, currently slated for exploitation by Canadian mining companies.
(more…)
Posted by Tracy in : Uncategorized , add a comment
By Nikolai Rudenko
Editor's note: This post is provided by our sponsors.
If there's one reason why a trip to Turkey should be embarked upon at some point in your life, ignoring the obvious sun, sea and sand, it's the cuisine. Turkish food provides some of the tastiest morsels you'll ever devour and the only way to really sample it is by visiting the country itself. Luckily, there are plenty of fantastic reasons why a holiday in Turkey should be at the top of your destination list for a summer holiday, with Antalya breaks from Direct Holidays providing everything you could possibly wish for, including plenty of cultural and historical treats to broaden your mind, too.
If you need one reason to avoid an all-inclusive break in Antalya and opt for another board basis, such as self-catering or bed and breakfast, it's the cuisine that you'd be missing out on by staying within your resort. The food is as mouth-watering as it is tempting and certainly doesn't stop at the popular souvenir box of Turkish Delight.
During your visit, be sure to sample the traditional meze, whose counterparts can range from kalamar to kofte meatballs and aubergine salad.
Of course, the humble Iskender kebab (or, in fact, any of the authentic local kebabs) are an absolute must-try. A stay in Antalya will introduce you to a variety of regional and national kebab offerings – take a look at the options and order one that your tastebuds will love.
Turkish desserts are unlike anything you may have tried before – they love the sweet puddings and there's an array of pastries available, including the famous baklava made of flaky pastry and nuts, covered with a deliciously sweet syrup – totally scrumptious, but too much of it may require a visit to the dentist.
While there's an abundance of English-style restaurants in and around Antalya, what's the point in travelling all that way to eat something you'd have at home? Try something new on your upcoming Turkey holiday for an exciting foodie experience on holiday.
Posted by Tracy in : Uncategorized , add a comment
By Nikolai Rudenko
Editor's note: This post is provided by our sponsors.
Fancy a cruise holiday this year? You needn't worry about time running out, because there are plenty of fantastic cruises on offer, and a number of tempting deals too.
For instance, take a look at Thomas Cook 2013 Cruises. As you'll see, there is a superb range of cruise experiences to choose from and plenty of wonderful ships to take you there. Some of them easily fall under the banner of a 'superliner' – which go well beyond the expected norms of facilities and service. With Royal Caribbean, for instance, you can expect innovative cruise facilities like surf simulators and rock-climbing walls, ice skating and extreme acrobatic shows. With P&O Cruises, you can choose a superb family-friendly cruise, while on a holiday with Celebrity Cruises it's all about A-list surroundings and VIP-style destinations.
This year, you could sail away on a Caribbean discovery tour, taking in such sumptuous destinations as Florida, the Bahamas, the U.S. Virgin Islands and St Maarten. Or, head off to explore such European gems as Venice, the city of Split in Croatia, rugby-mad Toulon in France, the chic city of Barcelona and Italy's historic hotspots of Rome and Florence. How about a trip to the frozen wonderland of Alaska, a chance to see the Northern Lights, or a discovery cruise along some of Europe's most famous rivers? River cruise operators have smaller vessels that can access areas that are usually off-limits to larger cruise ships and superliners, taking you to some of Europe's most beautiful hidden gems.
Cruise holidays are all about enjoying a little bit of what you fancy, and if you've got a cruise holiday on the cards in 2013, you'll find a fantastic range of cruise operators and holidays to take you there. From sunbaked shores to ancient cities, which 2013 cruise gets your vote?
Posted by Tracy in : Uncategorized , add a comment
By Nikolai Rudenko
Editor's note: This post is provided by our sponsors.
If you're a fan of sizzling fajitas and fiery fiestas, don't miss your chance to visit Mexico. This captivating corner of the world is alive with Spanish flair and a culture rich in indigenous traditions, not to mention some of the most beautiful natural landscapes in the world. (more…)
Posted by Tracy in : Uncategorized , 2comments
Lino Stancich instructs passengers on the art of self-massage for healing on the top deck of the MSC Poesia.
THIRTY THOUSAND FEET OVER THE GULF OF MEXICO – It's hard to believe it was just a week ago that I made this journey in reverse, catching my pre-dawn flight in Guadalajara, deplaning in Miami to find my Dad relaxed and rosy from the sun at the wheel of a rental car. A week since we found our way to Cruise Terminal 4 in Fort Lauderdale, to the 16-story MSC Poesia, to the Holistic Holiday at Sea, a colorful new community of people joyfully embracing a lifestyle that until now, I'd never contemplated adopting for myself.
I'd given up meat for my Dad, and even dairy for a few weeks – and giving up all animal products on a long-term basis seemed right and proper for my father, who is fighting a grim mesothelioma diagnosis with a self-healing approach. For me, however, it seemed unnecessary and extreme.
But that was before – and this is after.
(more…)
Posted by Tracy in : Uncategorized , 1 comment so far
When Dr. Martha Cottrell turned 50, she was a mess. She suffered from rheumatoid arthritis, psoriasis and severe allergies. She didn't think it could get much worse – but one day, it did. She was diagnosed with a pre-cancerous lesion of the cervix.
"I was doing everything I had been taught," she told the audience, an attentive theater full of more than 1,200 vegans and macrobiotics. She had healed thousands in her career as a family practice physician, but she didn't have a clue what she was doing wrong in terms of her own health.
Posted by Tracy in : Uncategorized , 1 comment so far
Sunday dawned somewhere over the high seas, and we emerged poolside to find the yoga instructor cheerily calling out over a stiff ocean breeze: "Remember, surrender all resistance; we're in battlefield conditions. This will strengthen your practice!"
A hundred pairs of arms reached for the sky as the last shades of pink faded away, and another brisk troupe circled the track overhead. "Just go to the edge of your comfort zone – remember, it's vacation yoga!"
It's morning workout time on the MSC Poesia, the chartered cruise line for the Holistic Holiday at Sea, and poolside chats are at a minimum – 1,200 cruise passengers are here with a mission, and I'm no exception. I'm here with my parents – Dad, who has recently made the switch from meat-and-potatoes guy to hardcore macrobiotic in an attempt to beat back a terminal cancer diagnosis, and it didn't take long to find we're surrounded by kindred spirits. For them, it's not just a cruise; it's a matter of life or death.
(more…)
Posted by Tracy in : Uncategorized , 2comments
Freelance writer Tracy Barnett is reporting from the Caribbean from the Holistic Holiday at Sea, She will be documenting the holistic cruise over the next week through a series of blog entries. Stay tuned!
Gary Brunk, recently diagnosed with mesothelioma, is fighting for his life with a holistic health regimen, accompanied by his wife Judy (left) and daughter Tracy L. Barnett, a travel writer. The trio set sail this week with the Holistic Holiday at Sea, a macrobiotic healing cruise.
AIRBORNE OVER MEXICO – Six months ago, when my father was first diagnosed with terminal cancer, my friend Michelle responded right away.
"You should take him on the holistic health cruise," she said. I dismissed the idea at once – in the first place, I don't like the idea of cruises anyway – a floating hotel at sea, I've always imagined them. I'm an independent traveler who chafes at the cumbersomeness of groups of more than two. Besides, on my Dad's rapidly dwindling retired factory worker budget, and my freelance budget, who was going to pay for it?
"Nonsense," said Michelle. "You're a travel writer. Pitch this to some magazines. You can do it."
She was talking about Holistic Holiday at Sea, a cruise dedicated to macrobiotic eating, yoga, meditation and a whole regimen of wellness strategies. I contacted Sandy Pukel, the cruise organizer, hoping he'd give us a discount that would work with our budgets. He was reluctant. His cruises always sell out, he pointed out, and there's already been plenty of publicity. But he left the door open, and I began pitching the story to magazines.
Meanwhile, Dad was struggling with the decision of a lifetime. He had paid a visit to the state's best cancer center, where they had given him a grim prognosis, delivered by a cheery doctor named Maria in a rapid-fire technobabble: Mesothelioma, nearly always fatal within a year of diagnosis. With chemotherapy, he might hope to live a few more months. It was already probably too advanced for surgery, and radiation for the lining of the lungs was not advised.
(more…)