Posted by Tracy in : Adventure, Ecovillages, Healing retreats, Indigenous culture, Mexico, Nature tourism, Sustainability , 13comments
TEMICTLA, Mexico – If there were ever any doubt that Quetzalcoatl lives, that doubt was dispelled in one moist, glistening, luminous week in the heart of Mexico.
Here in Temictla, a sacred valley, a tiny ecovillage and spiritual retreat center on the edge of Chalmita, a pilgrimage destination to millions of people of diverse traditions, a far-flung family reunited under the light of a waxing moon in November of 2013. It's a family of many nations and many traditions, a family whose multitudinous members have dedicated themselves heart and soul to the survival of humanity and of life on Earth.
Posted by Tracy in : Adventure, Mexico, Nature tourism, Uncategorized , 1 comment so far
BARRA DE NAVIDAD, Jalisco, Mexico – The crashing waves and a gentle breeze serve as the backdrop for an Italian opera here at the expansive Bar de los Chicanos, atop the elegant Hotel Alondra. When we first arrived, it was a rousing salsa set, a hopeful bid to fill the ample dance floor overlooking the sea; but seeing that today's Hora Feliz (Happy Hour) clients were writers and conversationalists and loungers rather than dancers, the accommodating bartender changed the tune.
It's like that, here on the Costalegre, Mexico's "Happy Coast." Whatever your mood, you can find the circumstance, but more likely than not, it will be laid back – particularly at this time of year, when the heat obliges one to take a more contemplative pace.
I came here with my sister Toni in October, before the beginning of high season and just at the end of hurricane season. News of the Category 3 Hurricane Raymond closing in on the coast of poor sodden Acapulco, struggling to recover from last month's Hurricane Manuel, definitely puts a damper on our plans to mosey up the stretch of coast from Barra on up to Puerto Vallarta, exploring the villages and beaches that make up the Costalegre.
(more…)
Posted by Tracy in : Healing retreats , 4comments
BARRA DE NAVIDAD, Jalisco, Mexico – A pair of roosters herald the dawn as I curl among the blankets in the Universe Room of the Casa Holistica Sol. The vibrant magenta beginning to streak the sky outside my arched window and the faraway rhythm of waves on the sand is call to me, and I quickly grab my camera and binoculars and head out to explore this little Pacific paradise.
It was not my intention to be here now but I had recently befriended the proprietor of this place, a warm and winsome wise-woman and healer by the name of Lucero, and she had whisked me away from my home in the highlands. It would be an all-too-brief stay – I had to be home in less than 48 hours, and 10 of that would be the journey to Barra and back again – but it was worth it.
(more…)
Posted by Tracy in : Uncategorized , add a comment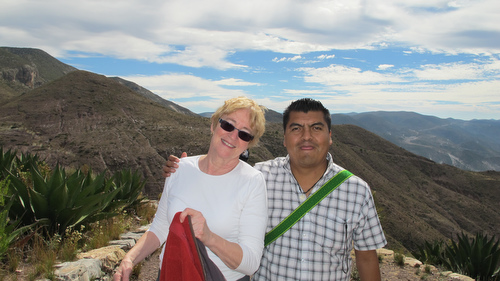 Canadian author and activist Maude Barlow atop the Cerro Quemado with Wixarika leader Santos de la Cruz. (Tracy L. Barnett photos)
REAL DE CATORCE, Mexico – From the moment Maude Barlow passed under the crumbling stone arch and saw the first nopalera laden with red cactus fruits, she knew she was entering another dimension.
Accompanied by a retinue of Huichol leaders, activists and a wandering journalist, the Canadian author, public speaker and social leader was making her own pilgrimage to the Birthplace of the Sun. It's a journey the Huichols or Wixarika people have made for over a thousand years, coming to reconnect with the ancestors, light the candles of life and pray for the balance of all life on Earth.
Maude's mission was a different one. She had come to see for herself what was at stake in Wirikuta, this most sacred of Huichol holy sites, currently slated for exploitation by Canadian mining companies.
(more…)
Posted by Tracy in : Adventure, Mexico, Nature tourism, Sustainability, ecotourism , 5comments
PLAYA DEL CARMEN, Quintana Roo – A light breeze moves in the jungle beyond our patio at the Grand Velas resort; birds call to each other with liquid notes, and my mother reads her Bible beside me as my father sleeps.
We're winding to the close of our action-packed itinerary – maybe too action-packed, I reflect, but as Dad would say, "We had 'er to do."
Unforgettable moments flip through the slideshow of my memory: my father's boyish grin lighting up in spite of himself as he stood, lifejacket up around his ears, the dolphin leaning in and kissing his cheek. Shaking his head in disbelief as our two waiters explained the special six-course meal that the famous French chef at Piaf, Michele Mustiere, had prepared for him, taking into account all of the complicated restrictions of his diet. Seeing him lying back on a canopied lounge on the beach, soaking up the sun and the attentions of an efficient and watchful staff.
My factory-worker dad, father of nine and grandfather of a houseful of rambunctious little ones, had never come close to such luxury. He hadn't even known that it existed. A shadetree mechanic and consummate fixer of broken things, I found him examining the cooling system in our suite and chatting up the shuttle drivers and motorcycle salesmen we would meet along the way.
(more…)
Posted by Tracy in : Mexico, Uncategorized , 5comments
MERIDA, Yucatan Peninsula, Mexico – Finally, I can relax.
The sound of running spring water and the night noises of the jungle surround me, the toil and trouble of the city far behind.
This long-anticipated journey with my parents – their first to Mexico, and the first stamp on their brand-new passports – had gotten off to an admittedly bumpy start, what with a raucus all-night party in our hotel on the first night, getting lost in the chaos of the city's Centro Historico, a virulent case of bronchitis for their driver and guide – yours truly – and too many other complications to mention. Had I made a mistake? My ailing father was exhausted – and this trip had been planned as a healing retreat for him.
But as we passed through the colorful towns on the outskirts of Merida and entered the ornate iron gate into the shady front courtyard of Hacienda Petac, I felt the tension dissolve. Marlene, one of more than a dozen Mayan women who attended to our every need during our stay, materialized from one of the three graceful arches of the hacienda with a traditionally embroidered dress, a beautiful smile and a tray of tempting red drinks.
My heart sank – I was sure they coudn't be on my father's diet. They almost certainly had sugar in them, and would be another disappointment. But there was Colleen, greeting us with a hug and a rundown of the ingredients: hibiscus tea and orange juice. Pure, simple and delicious. Dad reached for it and downed it, delighted.
(more…)
Posted by Tracy in : Mexico , 2comments
TEOPANTLI KALPULLI, Jalisco, Mexico – I live at the corner of Earth and Fire streets, around the corner from a pyramid. I wake each morning to the crowing of roosters and the lowing of cattle. On Sundays I join my neighbors in kneeling and entering the womb of my mother in the form of a temezcal, the sacred indigenous sweat lodge ceremony, to sing and pray and to burn away the impurities of body and spirit.
I've been here for a little over a month, and the time has come to answer the question of my friend Ruhksana, whose voice came to me over a great distance when I announced my decision to move here.
Why Mexico? She wanted to know. After traveling for a year the length of Latin America, why did you choose to settle there? There are ecovillages everywhere. Why did you choose that one?
The question is a big one, and the answer is a forked river of tributaries that have carved their way through the landscape of my life all these many years. I will forge my way up one of those streams and see where it takes us.
My relationship with this particular piece of land began a little over a year ago, at the beginning of my journey through Latin America, reporting on sustainability initiatives for The Esperanza Project. I began my project in Mexico City with members of the Vision Council and the Rainbow Peace Caravan, a loosely interwoven band of activists, performers, permaculturists and visionaries who have waged a colorful, creative and loving battle for a better world throughout the hemisphere – and in some cases, throughout the world – for nearly two decades.
This network inspired, informed, and in some ways guided my journey, and one of the nodes on that network was here at Teopantli Kalpulli, whose name means "village of the sacred standard". In the midst of my whirlwind of Guadalajara interviews, I spent half a day here with Levi Rios, a young architect and permaculturist who grew up here and serves as a sort of spokesman for the community.
I was impressed with what I saw: Mexico's oldest intentional community, located here on a piece of dry and overgrazed farmland 18 years ago, nurtured into a shady and compact village with a bakery, a school, a house of worship, a huge garden and a cluster of temezcals, where sweat lodge ceremonies drawing people from around the region were conducted periodically.
The community was founded by a group of spiritual seekers, practitioners of yoga and vegetarianism who sought a simple life, close to the land. Soon, as Levi explains it, they began to realize that their own indigenous traditions held a wisdom as deep and as powerful as those that had been carried over from the East, and they began reaching out to teachers of those traditions.
Those inquiries brought to the Kalpulli the first calihuey – the house of worship of the Huichol or Wixarika people. It also brought indigenous leaders from the north, Lakota and Navajo medicine men, carriers of traditions that some say originated here in Mexico – the Sun Dance and the temezcal – but were fiercely repressed by the Spanish conquest. Instead of disappearing, these traditions were carried north and kept alive by indigenous groups throughout the States. In 1983, Tigre Perez, a Chicano activist from Laredo descended from Purepecha Indians from Michoacan, completed the cycle. Perez had studied with Lakota medicine men and Sun Dancers and came to the Kalpulli in 1983, shortly after its founding. It was here that Perez first brought his Kanto de la Tierra, song of the earth, back to its ancestral home.
That tradition continues alive today. And although I didn't know it at the time, it was that energy that called me back here.
(to be continued….)

Created with Admarket's flickrSLiDR.
Posted by Tracy in : Ecovillages, Latin America, Mexico, Mexico City, Sustainability, Tepoztlan , add a comment
Outside in the darkness, up in the hills not far from here, a chorus of coyotes is greeting the coming of the dawn. How appropriate, I think with a smile. Here in Huehuecoyotl, place of the old, old coyote, I've just bid farewell to the greatest coyote of all, Subcoyote Alberto Ruz Buenfil, who is letting me use his home as a base for a few days. Now it's his time to head into Mexico City, where he is taking the lessons of the Rainbow Caravan for Peace into the barrios of that other place of coyotes, Coyoacán.
(more…)
Posted by Tracy in : Esperanza Project, Guadalajara, Mexico, Sustainability , add a comment
Today I awoke in the verdant mountains near Tepoztlán in Central Mexico, far from the commotion of city life in Guadalajara. Before I move on, I want to take a few moments to acknowledge the work of 24 extremely dedicated, talented and creative people I met during my time in that city, people who touched my life and gave me hope for a better future.
To read about them, please visit Guerreros de Guadalajara, a bilingual entry in my Flickr account.
La Minerva, warrior woman of old and symbol of modern-day Guadalajara, photo courtesy of TheLittleTx, Flickr Creative Commons.
Posted by Tracy in : Guadalajara, Mexico , 3comments
As is the case in many big cities, one of the best things about Guadalajara is what lies outside its boundaries. That's the case with two colonial villages just outside the city limits, Tlaquepaque and Tonalá.
Tlaquepaque is the more carefully groomed, tourist-brochure version of the colonial village – and it's delightful, with its nightly serenades by mariachis, streets that were made for strolling and lushly landscaped courtyards. Tonalá, on the other hand, is still a little rough around the edges, with an outdoor market where you can still get a hearty meal of steak, chicken or fish in the market for about $2.50, or pick out your fresh produce and a cut of meat to go with it, all while watching the children run and play in the plaza next door.
Tonalá is a destination for shoppers of bargain artenanía, which ranges from kitchy Aztec calendars and frog-shaped ceramics to sophisticated creations from some first-rate artists. Here's a little peek.

Created with Admarket's flickrSLiDR.