Posted by Tracy in : Indigenous culture, Mexico, Mexico City , 3comments

"Wirikuta is not for sale!" Wixarika leaders and activists take the stage at Wirikuta Fest to the chants of 60,000 fans.
Story and photos by Tracy L. Barnett
It was a long time coming – but it was worth the wait.
Nearly two years ago, more than a dozen of Mexico's biggest performing artists came together in a mega-event aimed at saving Wirikuta, one of the country's most sacred sites, from devastation at the hands of Canadian gold and silver mining operations.
It was a triumphant moment for the indigenous Wixarika people and for indigenous movements in general when, as the daylong festival came to a close, they were invited to come up on stage. A massive screen flashed images of traditional Wixarika beadwork behind them as 60,000 fans chanted, in unison, "Wirikuta no se vende! Wirikuta se defende!" (Wirikuta is not for sale! Wirikuta will be defended!)
Leaders of the indigenous Wixarika people and the Wirikuta Defense Front, the civil society coalition that is supporting them, came forward in a Mexico City press conference recently to give an accounting of how the money was spent – an example of innovation in the face of daunting challenges.
(more…)
Posted by Tracy in : Uncategorized , add a comment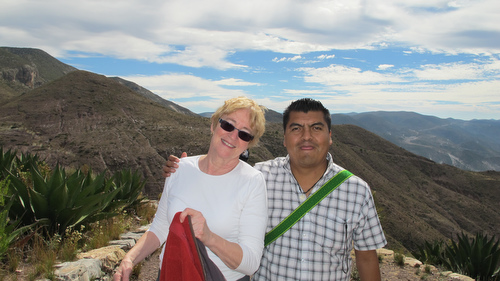 Canadian author and activist Maude Barlow atop the Cerro Quemado with Wixarika leader Santos de la Cruz. (Tracy L. Barnett photos)
REAL DE CATORCE, Mexico – From the moment Maude Barlow passed under the crumbling stone arch and saw the first nopalera laden with red cactus fruits, she knew she was entering another dimension.
Accompanied by a retinue of Huichol leaders, activists and a wandering journalist, the Canadian author, public speaker and social leader was making her own pilgrimage to the Birthplace of the Sun. It's a journey the Huichols or Wixarika people have made for over a thousand years, coming to reconnect with the ancestors, light the candles of life and pray for the balance of all life on Earth.
Maude's mission was a different one. She had come to see for herself what was at stake in Wirikuta, this most sacred of Huichol holy sites, currently slated for exploitation by Canadian mining companies.
(more…)